Sampson, storyteller
March 7, 2012 by Dan Darling, contributing writer
John K. Samson is the highly praised singer and lyricist for Manitoba-based rockers the Weakerthans. The release of his first solo album, Provincial, coincides with the release of his first book, Lyrics and Poems 1997-2012 (Arbeiter Ring Publishing).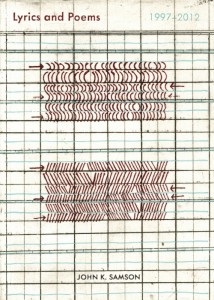 Long recognized as a stellar songwriter, Samson takes us through the lyrical years from the Weakerthans' first release, 1997's Fallow, right up to his current solo effort. Along the way, Samson sheds layers to take us to the core of his charm.
Whether he's become a cat lamenting the self-defeating tone of his owner in "Plea From a Cat Named Virtute" or a disenfranchised lover-that-never-was in "Pamphleteer," Samson showcases his uncanny ability to empathize with whomever – or whatever – he's writing about.
Samson's heartstrings are intertwined with Canada at every turn of phrase. Who else writes a lovelorn lyric around a curling bonspiel? In "Tournament of Hearts" he writes, "Why can't I draw up to what I want to say? Why can't I ever stop where I want to stay? I slide right through our days. I'm always throwing hack weight."
It's in lyrics like those that Samson reveals his undeniable Prairie voice.
Through this book, I found songs I love to hear given deeper meaning. I discovered new favourites from simply unearthing the strength of the written word.
With the release of this collection, John K. Samson has solidified his place as one of the finest Canadian contemporary poets and lyricists.
Facebook comments; non-Facebook comments below