Halloween costumes mirror pop culture
October 30, 2012 by Kate Masters, contributing writer
The thrill of finding the perfect Halloween costume is exhilarating for some and exhausting for others. If you're nervous about online shopping, too impatient for a thrift store, and depressed by Walmart's buzzing fluorescent lights and prepackaged costume clones, it's time to consider renting.
The quality of a rental costume is much better and you get more fabulousness for your buck. Also, you won't have to be the Black Swan two years in a row.
"Who wears a costume twice?" asks Charlotte Rennison, owner of Victoria Costumes in Brentwood Bay. "Costumes are all about becoming someone different and doing different things, so why would you wear the same costume again?"
With new movies, television shows, books, and YouTube videos clogging up  mainstream media, there's certainly no need to ever repeat a costume. Popular culture has always had an influence with Halloween costumes.
"It's everything and I have to keep up to date with stuff, and I don't have cable," says Rennison. "People call and I have no idea what they're talking about sometimes. I remember last year or the year before people kept calling and asking for Snooki costumes. I'm like, 'Who is this Snooki person?' And, yeah… unfortunately I had to watch a bit of that show [Jersey Shore]."
With the last season of Jersey Shore airing this fall, the Snooki impersonators will hopefully be few and far between. That character is making room for classic pop-culture characters like Princess Leia, Superwoman, Catwoman, and the Black Widow.
"Women want to look and feel feminine," says Rennison. "Women are more inclined to go sexier than, say, they were just going to a neighbours' 1920s party on the weekend. People think they can get away with a little more skin when it comes to Halloween."
For men, Charlotte fields the most inquiries about the fearless leader of the Death Star and, of course, superheroes.
"Always, without fail, Star Wars and superheroes are the most popular," says Rennison. "Darth Vader is always number one. We have the standard Darth Vader costume and then movie quality, and that's what people want."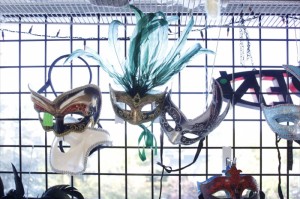 Another growing trend for both men and women is steampunk.
"Steampunk is all about original pieces," says Rennison. "Victorian-era pieces are mixed in with futuristic ideas. Top hats and goggles for men, and for women it's all about the corsets and bustle dresses."
Although sticking with the trendy costumes is safe, sometimes mixing it up is just what the Halloween fairy godmother called for, and what Rennison hopes for.
"People just need to get a little more creative," says Rennison. "I thought a great group Halloween costume would be a turkey with a bunch of pioneers. I've never seen that done before. How fun would that be?"
Facebook comments; non-Facebook comments below