20 years ago in Nexus: November 12, 2014 issue
November 12, 2014 by Greg Pratt, managing editor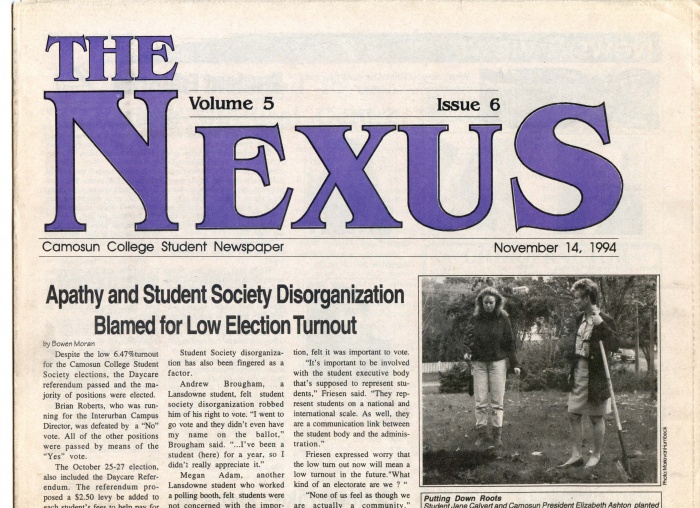 Just keep it open: Quickly looking over back issues of the paper, one thing becomes clear: the Lansdowne Writing Centre got closed down a lot. And re-opened a lot. And closed down again a lot. And re-opened again a lot. Here, in our November 14, 1994 issue, it had re-opened, with student tutors. Stay tuned to see when it gets shut down again!
Political for life: The Camosun College Student Society (CCSS) column, CCSS Comment, in this issue was an intense critique of Liberal policies. The man who wrote the story? None other than Rob Fleming, who went on to a career in politics and was then the "CCSS work study."
Craft consistency: You can't pick up a magazine these days without someone going on about the current craft-beer revolution, but back in this issue an ad for Vancouver Island Brewery proves that we here in Victoria were way ahead of the curve. Even back then, the company had some familiar beers for sale: Piper's Pale Ale and Hermann's Dark Lager remain two of the company's popular brews.
Facebook comments; non-Facebook comments below