20 Years Ago In Nexus: January 7, 2015 issue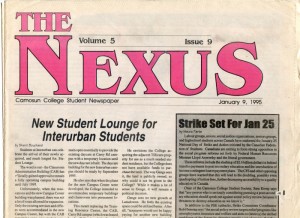 Interurban issues: Our January 9, 1995 issue had no shortage of news about happenings going on over at the Interurban campus. A new student lounge was announced, safety training for students was unveiled, and, in a move that is actually pretty fancy for 1995, touch-screen computer kiosks with Interurban info were being installed at that campus.
Old news is bad news: A news story in this issue detailed an upcoming National Day of Strike and Action in protest of the then-government's decision to axe $2.6 billion in federal transfer payments to postsecondary education. If I added up the amounts of these cuts that I see in these old issues of Nexus, the number would be sobering indeed.
To market we go: Sure, everyone natters on these days about food and markets, but did you know that 20 years ago, Hillside Centre had an indoor market? An ad in this issue confirms that The Market at Hillside Centre indeed used to exist. And it offered a 10 percent discount to students every Wednesday; take that, current markets!
Facebook comments; non-Facebook comments below