New Music Revue: Wu-Tang Clan miss the mark with A Better Tomorrow
January 7, 2015 by Megan Dunn, contributing writer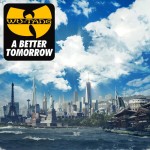 Wu-Tang Clan
A Better Tomorrow
(Warner Bros.)
2/5
Being a longtime fan of Wu-Tang Clan, I was beyond excited for their latest release, A Better Tomorrow, their first since 2007. Unfortunately, that excitement quickly dissolved after the opening track, "Ruckus in B Minor."
After listening to the album in its entirety, it's the best song, and it should have been the only song. It feels like the Clan put all their effort into "Ruckus in B Minor" and forgot about the other two necessary elements to make a good hip-hop track: bumping beats and wicked verses.
The only other track I enjoyed was "Preacher's Daughter," which has a good vibe to it, sampling from "Son of a Preacher Man."
A Better Tomorrow is lackluster, which is unfortunate because, even though it was released a year late, this was the much-anticipated 20th anniversary album for Wu-Tang Clan.
Facebook comments; non-Facebook comments below