Lit Matters: Joan Didion and the New Journalism
February 4, 2015 by Keagan Hawthorne, contributing writer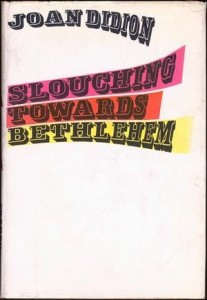 "We tell ourselves stories in order to live," said Joan Didion, a multi-talented writer known for her novels, screenplays, and non-fiction. Didion's most recent work includes two incredibly moving memoirs about the deaths of her husband of 40 years and, just over a year later, their only daughter.
In addition to her novels and memoirs, Didion wrote essays and articles for nearly every major American magazine in the second half of the 20th century.
Her unique style and almost uncanny social insight quickly established Didion as a master of literary journalism. Slouching Towards Bethlehem, published in 1968, is a collection of essays about California's counterculture movement. Didion writes with an urgency and immediacy that unfolds the world of hippies, junkies, folk heroes, and runaways in vivid, living detail.
Her personal, yet stylistically masterful reportage helped change the face of American journalism. Along with writers like Hunter S. Thompson, Tom Wolfe, and Truman Capote, Didion wrote journalism that rejected the traditional rules of reporting in favour of a style mainly concerned with a strong narrative.
Their writing, which became known as "New Journalism," was characterized by literary techniques such as first-person narrative, complex dialogue, and the use of incidental details to fill in the readers' image of a character.
Wolfe, the unofficial ringleader of the group, said that the basic unit of New Journalism wasn't the fact that was being reported, but the scene in which that fact was discovered.
Of course, Didion didn't set out to change journalism. Writing was simply a way to process her curiosity about the world. Like many novelists, poets, and journalists, Didion said she wrote "to find out what I'm thinking… what I see and what it means." By telling the stories she encountered around her, Didion found a way of discovering the world and herself.
Joan Didion must-read:
Slouching Towards Bethlehem
(UVic McPherson Library code: PS3554 I384S55 || Greater Victoria Public Library Central Branch code: 814.54 DID)
Facebook comments; non-Facebook comments below