New Music Review: Reservoir win by evoking '90s midwest emo
February 4, 2015 by Greg Pratt, managing editor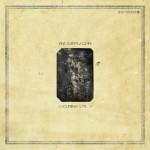 Reservoir
Cicurina Vol. 1
(Glory Kid Records)
4/5
Pennsylvania's Reservoir are about to remind you of what the word "emo" once meant. Once upon a time, bands like Sunny Day Real Estate and Mineral actually embraced heart-on-sleeve emotion in music and delivered it to an energetic rock soundtrack that wasn't overly slick or pandering in its songwriting structure, and that's what Reservoir accomplish on this latest EP.
Sort of, anyway: they're pretty slick, and they incorporate a lot more dream-pop/shoegaze elements into their sound, particularly with the swirling guitar work and occasionally meandering songs. But it all works (and, hey, Mineral meandered sometimes, too).
The band should have no problem extending their sound to a full-length worth of material when the mood strikes them. For now, these four songs will take listeners back to the mid-'90s just fine. "Waves Erase" conjures up memories of classic emo bands like Christie Front Drive and Boys Life, and for that alone, Reservoir deserve your attention.
Facebook comments; non-Facebook comments below