Lit Matters: Hermann Hesse the original beat poet
March 4, 2015 by Keagan Hawthorne, contributing writer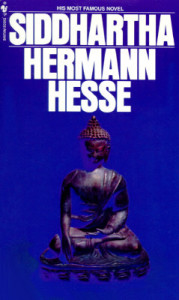 Hermann Hesse, a German writer best known for his novels The Glass Bead Game, Steppenwolf, and Siddhartha, received the Nobel Prize in 1946. He had a troubled childhood and didn't do well in school, so most of his education as a writer came during the evenings while he was apprenticing to become a bookseller.
Working in the bloody first half of the 20th century, Hesse's life wasn't always happy. He married three times and was consumed with a quest for an authentic experience of life. Much of his work explores this individual quest for self-knowledge. Siddhartha, published in 1921, tells the story of a wandering Brahmin's life and the insights that led to his enlightenment.
Hesse was fascinated with Orientalism and Eastern philosophy. His expressions of these philosophies were a major influence on later generations of writers, especially the American beat poets and the counterculture of the '60s.
Hesse's travels in India gave him a unique spirituality and mysticism that was divergent from the staunch Christianity of his parents and his upbringing. Writing at a time of industrial and technological expansion, Hesse's popularity came in part from his presenting a vision of life that wasn't focused on a scientific, mechanized self.
"Everything is within you," he wrote in Wandering, a collection of pastoral sketches based on his travels by foot through the Swiss Alps. "Gold and mud, happiness and pain, the laughter of childhood, and the apprehension of death. Say yes to everything, shirk nothing, don't try to lie to yourself. You are not a solid citizen, you are not a Greek, you are not harmonious, or the master of yourself, you are a bird in the storm. Let it storm! Let it drive you!"
Hermann Hesse must-read:
Siddhartha
(Lansdowne library code: PT 2617 E85 S52 1957)
Facebook comments; non-Facebook comments below