New Music Revue: Led Zeppelin's Physical Graffiti still perfect
March 4, 2015 by Greg Pratt, managing editor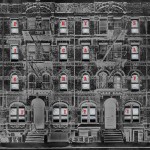 Led Zeppelin
Physical Graffiti
(Atlantic Records)
5/5
The latest Led Zeppelin reissue tackles 1975's huge Physical Graffiti, a double album of absurdly good, acid-destroyed rock. All these years later, it still sounds perfect.
"Custard Pie" is one of the best album openers ever, and "In My Time Of Dying" is an 11-minute funeral dirge… placed as track three. This is serious stuff.
"Kashmir" has, you know, the best riff ever, and "In the Light" is a moody '70s rocker without peer (the riff at 4:27 lifts, reinvigorates, forever). But then there's the forgotten songs: "Down By the Seaside" totally kills it, "The Rover" nails proto-metal riffing to the wall, and "Night Flight" is one of the band's unsung greats, the song in a fun class all its own.
Like all these reissues, the remastering is not a deal-breaker and the bonus material (here alternate/rough takes of album cuts) is forgettable (except for the very disorienting early version of "In the Light").
But it doesn't really matter, because Physical Graffiti is untouchable as a rock album.
Own it, listen to it often, respect it.
Facebook comments; non-Facebook comments below