New Music Revue: Kathryn Calder's new album of love songs is a tearjerker
April 1, 2015 by Megan Dunn, contributing writer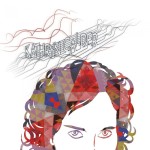 Kathryn Calder
Kathryn Calder
(File Under: Music)
3/5
Kathryn Calder's third album is all love songs, but in the broad sense.
Anyone who has been in love, burned by love, or is currently in love will be able to relate to the tracks.
The Canadian indie rock musician and New Pornographers member has a soulful voice that's undeniably beautiful, but I was left feeling a tad melancholy after listening to the album.
The second track, "Beach," really showcases beautiful lyrics about a big love that was lost along the way; it should have been easy, but it wasn't.
The song really pulls at the heartstrings, and the title is fitting: I had visions of someone walking along a sandy West Coast beach at sunset, longing for the one that got away.
Kathryn Calder's self-titled album in its entirety is charming; just have a box of tissues at the ready.
Facebook comments; non-Facebook comments below