New Music Revue: Autopilot's dreamy alt-rock impresses
May 13, 2015 by Greg Pratt, managing editor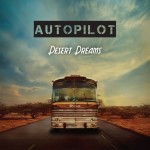 Autopilot
Desert Dreams
(Independent)
3.5/5
Saskatoon's Autopilot follow up their debut full-length, Diamond Rough, with this concise seven-song… EP? Mini-album? Album? Call it what you will, but I call it a good length, as the band's dreamy alt-rock doesn't have a chance to get stale before that refreshingly brief runtime is up.
Not that I'm worried about that: a song like the excellent "Oceanside" gets it all right: toe-tapping rhythms that aren't cloying or too predictable but maintain just enough mainstream pop sensibility to appeal to the casual avocado-squeezing listener at the grocery store, should it ever come to that.
But when they scrap their mainstream appeal, as on the darker and more meandering "Battles," the band's real strengths shine through: a slight nod to shoegaze, a clear love of '80's rock and new wave, and just a whole lot of sincere feeling.
Facebook comments; non-Facebook comments below