Lit Matters: Sjón and the natural history of poetry
May 13, 2015 by Keagan Hawthorne, contributing writer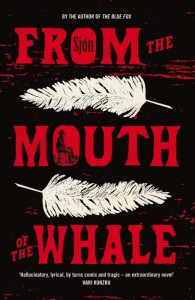 "I have seen the universe! It is made of poems!"
So declares a character in The Blue Fox, a novella by the Icelandic author known by his pen name, Sjón. The statement is typical of Sjón, who is as interested in the natural world as he is in the world of poetry and myth.
Sjón grew up in Reykjavik, where, as a teenager, he started a rockabilly band with Björk and founded a surrealist poetry movement. He frequently collaborates with Björk on songwriting projects and has been nominated for an Oscar.
Well known throughout Scandinavia, Sjón recently made his debut in English with the simultaneous translation and publication of three of his novels, The Blue Fox, The Whispering Muse, and From the Mouth of the Whale.
His writing is firmly grounded in the landscape of Iceland, in both its physical and mythical aspects. He blends myth with history, surrealism with realism, always looking, as he says, "for the source of human activity, looking into the back alleys and the darkest clearing in the forest for excitement."
Although he takes us on this search with an often-lighthearted tone, delighting in curiosity and detail, his novels have dark undertones. In all three, he questions the origins of human constants such as cruelty, racism, and intolerance. "When did a skilled craftsman first fiddle with a nail between his fingersÉand see not the carpentry job in front of him, but his brother nailed to a cross?"
The antidote to our own natures, says Sjón, can be found in our love of sharing stories. "We are curious by nature, always swapping stories. It is one of the great civilizing truths of human beings." This is the dual power of imagination: capable of turning tools into weapons, but also of transforming the landscape into poetry and our lives into stories.
Sjón must-read:
From the Mouth of the Whale
(Victoria Public Library: Central Branch, paperback fiction)
Facebook comments; non-Facebook comments below