New Music Revue: Don't Think I've Forgotten explores the lost rock and roll of Cambodia
June 24, 2015 by Greg Pratt, managing editor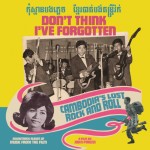 Various Artists
Don't Think I've Forgotten: Cambodia's Lost Rock and Roll
(Dust-to-Digital)
3.5/5
This soundtrack to the film of the same name documents the history of rock and roll in Cambodia: it ain't pretty. Cambodian rock musicians have been killed for being rock musicians, making both this album and the documentary fascinating and important looks back at a history we never really knew.
Much of the material here reaches back (the '50s through to the '70s are represented): there is the melancholy upbeat early-rock sounds of Chhoun Malay, the totally rulin' spaghetti-western/surf twang of Baksey Cham Krong, and Sieng Vannthy's fun and energetic rock 'n' roll/reggae mix.
Much of this sounds dated and no one is going to say the history books need to be rewritten with one of these groups replacing The Beatles, but there is so much passion on this album, and it comes from a place of real rebellion… real rock and roll. Just listen to the fiery performance of Yol Aularong & Va Sovy here and try to argue the sincerity.
Facebook comments; non-Facebook comments below