New Music Revue: Seafair show promise with The Querencia
June 26, 2015 by Sera Down, contributing writer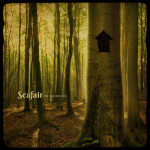 Seafair
The Querencia
(Independent)
3.5/5
Cleveland-based six-member indie-rock ensemble Seafair show promise with their sprawling 13-track album The Querencia. Developing a sound similar to early Paramore, Seafair lend an extensive classical background to fill out tracks, creating a cinematic soundtrack to rural life in Ohio.
The album's production is clean, with each melody easily isolated through even the cheapest of headphones. That said, tracks producing heavier guitar and drum riffs, such as "Discovery" and "DIM," occasionally bury the softer string instrumentals. While I prefer their classical iterations, the punk-rock riffs also hit the spot: they're heavy without being draining or obnoxious.
With a developed sound and solid production, The Querencia is an easy listen. Hopefully with more exposure and experience, this talented sextet can restore mainstream interest in the punk/classical cross-genre that was lost when Paramore strayed into EDM.
Facebook comments; non-Facebook comments below