New Music Revue: Fans & Motor Supply Co. bring lazy '70s rock to Victoria with much success
June 29, 2015 by Greg Pratt, managing editor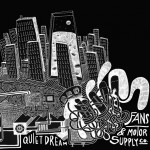 Fans & Motor Supply Co.
Quiet Dream
(Independent)
3.5/5
These Victoria locals have been spending time with some classic '70s rock albums. By the sounds of it, Fans & Motor Supply Co., whose name even evokes homage to bands from that great decade of music, reached even deeper beyond the classics to get inspired for this debut album: not a minute into great opener "Davey and Clara" the listener is reminded of The Band and The Allman Brothers, and that's a good thing indeed.
Bassist Oliver Swain is known around town for his solo output, but he shines here as well, every member of the band having their own unique identity but also working well together (that in itself a hallmark of the best '70s rockers).
Not to say "'70s" too many times in this review, but the band also utilize a very welcome '70s production sound where every instrument shines through, mistakes and all: this is rock and roll, but this is relaxed, feel-good rock and roll of a vintage that you just rarely see anymore.
Facebook comments; non-Facebook comments below