Exclusive: song premiere from Victoria's Nick La Riviere
July 21, 2015 by Greg Pratt, managing editor
Victoria's Nick La Riviere is about to release his second album, Another Time Around, and we've got an exclusive song premiere below.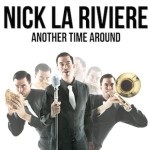 The album marks a huge change for La Riviere in that it has singing on it: his debut, 2009's Too Much To Do was entirely instrumental.
La Riviere will be playing on July 24 and 25 at Hermann's Jazz Club; see hermannsjazz.com for details. The album comes out on July 24.
We're proud to present the exclusive stream of the title track here:
Facebook comments; non-Facebook comments below