New Music Revue: Rain Over St. Ambrose's new album displays a spectrum of styles
July 22, 2015 by Sarah Tayler, contributing writer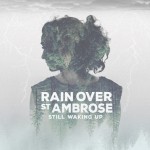 Rain Over St. Ambrose
Still Waking Up
(Independent)
4/5
This second album from Nova Scotia indie rockers Rain Over St. Ambrose is slow to start: the repetitive "29 Takes" fails to take full advantage of the band's vocals. But things pick up fast.
While "Broken Love" sounds like two other songs I know, the added harmonies took me off-guard and overthrew the initial impression of a gritty and gravelly lead. After only a taste, the growl came punching back, sounding even more passionate after being subdued. The well-timed electric guitar fused so well with the backup vocals that it sounded as if the instrument itself was singing the words.
Rain Over St. Ambrose presents a spectrum of different styles of rock music, integrating thunderous and intricate instruments and soulful and raw vocals. Surprisingly, the band abandons vocals, their strong suit, altogether near the end of the album in "Un Orage," a completely instrumental track that does wonders with saccharine violin accents.
Facebook comments; non-Facebook comments below