New Music Revue: Raccoon Bandit
September 17, 2015 by Matt O'Connor, contributing writer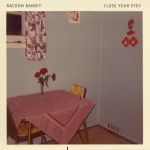 Raccoon Bandit
Close Your Eyes
(Independent)
3.5/5
Charlottetown, Prince Edward Island indie rockers Raccoon Bandit's second album, Close Your Eyes, is well worth checking out. Unlike many indie-rock bands, whose sounds meld together into a wave of redundancy, this band is unique.
"Searcher Song" is a particularly noteworthy track that very wisely opens the album with its broadcast: "You have arrived at your destination. Sit back, relax, and listen." And you can't help but sail through the songs to follow.
Another gem on this album is "Believe Me," a beautiful tune with harmonies reaching into and hugging your soul. This album fully demonstrates Raccoon Bandit's broad scale of capabilities, which are far from what is expected of an indie rock band. In fact, the genre does not come close to encompassing all that this band has to offer.
"Passing Through," the album's final track, not only has fitting content and placement, but, as the theme song of the Canadian series Just Passing Through, shows that this is a group of pure Canadian talentŃtalent that has been, and should continue to be, celebrated.
Facebook comments; non-Facebook comments below