25 years ago in Nexus: September 23, 2015
September 30, 2015 by Greg Pratt, managing editor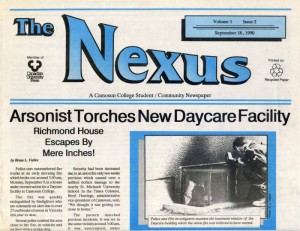 Did you know we are celebrating our 25th anniversary this year? The first issue of Nexus, known back then as The Nexus, came out in September 1990; we're relaunching the 20 Years Ago column as 25 Years Ago to celebrate.
Commenters anonymous: Our September 19, 1990 issue was our second issue, and in it we asked, as we still do today, for you to send in your thoughts in a letter to the editor. We also asked, and this might seem shocking to people so used to online comments today, to not hide behind anonymity: "The letters that get preference will be the ones that say: This is who I am, this is what I think!" We'd like to keep that challenge going today: letters with names attached to them will always pack more of a punch than those without.
Was it ever easy?: Remember how this summer you and your friends were talking about how hard it was to find a decent job? Turns out it was 25 years ago, too. "The unemployment rate was out of control this summer," then-chair of the Canadian Federation of Students Jane Arnold said in the story "Students had another tough summer." "Students just couldn't find jobs," Arnold said, "period."
A coming-of-age story: Our outgoing interim managing editor at the time, Brian Vallee, wrote in his editor's letter that the paper was an infant with great potential to grow. Looking at what Nexus has accomplished over the yearsŃwinning awards for our investigative work into missing aboriginal women on the mainland; having a direct impact on college policy, such as smoking areas, that we reported on; becoming a springboard for student volunteers to go on to work in mediaŃI think it's safe to say that the infant grew up all right after all.
Facebook comments; non-Facebook comments below