Lit Matters: Yukio Mishima finds true beauty
October 6, 2015 by Keagan Hawthorne, contributing writer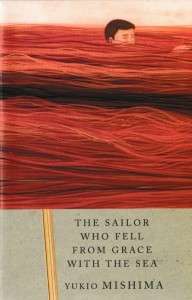 "True beauty is something that attacks, overpowers, robs, and finally destroys," wrote Yukio Mishima, a Japanese author who is as famous for his death at age 45 as he is for his prodigious literary output.
It is hard to overstate the expanse of Mishima's life. Considered the most important Japanese author of the 20th century, he published over 100 books of poetry, plays, novels, essays, and short stories. He directed and acted in films, was known as a bodybuilder and model, and established a private militia based on traditional bushido, or samurai, principles.
Mishima was also politically outspoken and a critic of the westernizing of Japanese culture. In 1970 he and four members of his militia entered a military base in Tokyo and tied the commanding general to a chair. Mishima then addressed the assembled troops from a balcony, extolling the historic power and glory of the Emperor.
When Mishima finished, he stepped inside and committed seppuku: ritual suicide by disembowelment.
Mishima left behind a rich body of avant-garde literature. His writing broke both stylistic and cultural boundaries, blending traditional Japanese aesthetics with western ideas and a modern, innovative style.
In The Sailor Who Fell from Grace with the Sea, Mishima explores the notion of absolute morality from the perspective of a gang of violent children who are staunchly loyal to their own moral code, even when it puts their behaviour at odds with the adult world.
His writing often touches on dark themes (death, disillusionment, sex, and obsession) and his characteristic close attention to imaginative detail doesn't shy away from the uncomfortable aspects of his characters' psyches.
But the brilliance of Mishima's prose is that readers may find their own dark corners illuminated. It's sometimes uncomfortable, but it always leads toward a fuller understanding of the self.
Yukio Mishima must-read:
The Sailor Who Fell from Grace with the Sea
(Lansdowne library code: Lansdowne library: PL 833 I7 G613)
Facebook comments; non-Facebook comments below