25 Years Ago In Nexus: October 7, 2015
October 19, 2015 by Greg Pratt, managing editor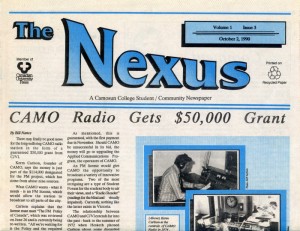 Did you know we are turning 25 this year? That's right: the very first issue of Nexus, known back then as The Nexus, appeared on stands around Camosun in September 1990. So we're relaunching our 20 Years Ago column as 25 Years Ago and starting back at the beginning…
Changing attitudes: In the editor's letter in our October 2, 1990 issue, we talked about how the Camosun College Student Society (CCSS) was doing a good job in acting on the students' behalf when negotiating with the college. 25 years later, we gotta hand it to the CCSS for still lobbying around the clock for Camosun students. We also gotta give a birthday shout-out to the CCSS, who is also turning 25 this year!
Even adjusted for inflation, we're jealous: In "Single parent students speak out," we profiled a Camosun student, Randy Leonard, who was a single parent of two children. In the piece, he mentions his three-bedroom townhouse in Royal Oak, which was in a Capital Regional District housing complex. The rent, including hydro? $198 a month.
Daycare delays: You hear about huge waiting lists for daycares these days, but apparently that's been a concern for a long time: a story in this issue mentions that Camosun's daycare had a three-year waiting list.
Facebook comments; non-Facebook comments below