New Music Revue: Paper Beat Scissors' hobo electro needs more electro
October 19, 2015 by Adam Djilali, contributing writer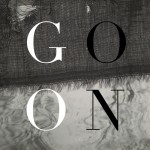 Paper Beat Scissors
Go On
(Forward Music Group)
3/5
Halifax-based Tim Crabtree's second effort under the Paper Beat Scissors name is a worthwhile listen for melancholic flannel-wearers and timid vagabonds alike.
He describes his music as "hobo electro," and although the hobo aspect is definitely believable, I wish more of the latter could have been on display: commit, damnit!
Crabtree's voice is thin, high, and mildly gritty and brings to mind artists like Will Oldham, Sufjan Stevens, and The Tallest Man On Earth.
His lyrics are obtuse (example: "Lost in jaws/your sense chewed out") and the instrumentation is rich and layered, including euphoniums, bassoons, and lap-steel guitar.
While this is all well and good, I found myself enjoying the more minimal arrangements over the crescendo-ing walls of ambient whatnot.
Go On's best tracks are "Bundled," "Unfazed," and "When You Still," which was the best utilization of the hobo-electro aesthetic.
Facebook comments; non-Facebook comments below