New Music Revue: Quiet Parade shows off their strong points
October 20, 2015 by Adam Boyle, contributing writer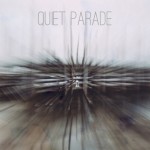 Quiet Parade
Quiet Parade
(Independent)
3/5
Each song on the second album from Halifax indie rockers Quiet Parade is full of deep guitar riffs and fierce percussion. The instruments run together flawlessly, with some songs whisking my mind away to happier times.
"Running Out of Time" is an ideal example of this chemistry: the song is an upbeat tune that radiates a warm feeling reminiscent of lying in the grass on a warm summer day.
Unfortunately, the vocals don't always leave a good impression on the listener.
The album's first track, "All My Time," has a superb set of riffs and sounds that flow together. Trevor Murphy's vocals, though, do not. At times they are scratchy and rough; other times they are sleepy and out of place.
All in all, Quiet Parade does something absolutely amazing with their instruments and showcases their talent incredibly well.
With a few tweaks, this band could be on a fast track to Canadian fame.
Facebook comments; non-Facebook comments below