25 years ago in Nexus: October 21, 2015 issue
October 26, 2015 by Greg Pratt, managing editor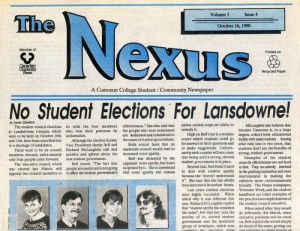 Don't forget to make your voice heard: The story "No student elections for Lansdowne!" in our October 16, 1990 issue was notable enough for its outrageous use of an exclamation point in a headline (ugh), never mind the content: due to a shortage of candidates, the student council elections for that October had to be cancelled. You've probably heard some talk of student elections recently (look at pages 3, 7, 8, 9, and 10 in this very issue); don't forget to learn from history's mistakes.
Camosun teacher goes behind bars: To teach, that is: Etta Connor, an Adult Basic Education instructor for Camosun at the time, went to the Wilkinson Road jail to teach inmates for six hours every weekday, according to the story "Education behind bars." At the time, Camosun had a program at Wilkinson where inmates could get an education while serving time at the jail. As writer David Gordon-MacDonald put it, "the human potential [programs such as this] save and the prevention of human misery are incalculable."
Big questions: We had a column written by Camosun's chaplain at the time, Clare Holmes, called Everyone Who Loves. In this column, he poses some interesting questions: "In a modern, secular college, a common commitment to truth might bind us together. The ninth commandment of the Hebrew Decalogue forbids bearing false witness against a neighbour. Do we have a fetish about bearing true witness?" For another example of Nexus and religion coexisting in years past, with less pleasant results, see page 14.
Facebook comments; non-Facebook comments below