New Music Revue: Brady Enslen creates beautiful sounds
November 2, 2015 by Adam Boyle, contributing writer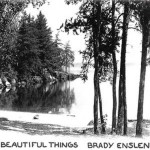 Brady Enslen
Beautiful Things
(Independent)
4/5
Recorded live off the floor in Winnipeg, Brady Enslen's debut album, Beautiful Things, creates a soft sound full of prairie life and longing for home.
Enslen, who mainly plays an acoustic guitar on this disc, strums chords that leave a flavourful sound in my head.
Enslen's voice adds to the captivating rhythm of his songs. Keeping with the tempo throughout all the album's tracks, his low, sorrowful pitch brings depth and meaning to the album's tracks.
His voice adds a sense of identity that many independent bands lack.
One song that displays his abilities beautifully is "Bitter in Barstow." Singing of longing to take road trips and travel the continent, this track had me singing along from the first time I played it, no small feat.
Overall, Enslen has produced a fantastic album and fully deserves nothing but praise for his work. If you like folk music, this is the album for you.
Facebook comments; non-Facebook comments below