New Music Revue: Blue Sky Miners
November 18, 2015 by Matt O'Connor, contributing writer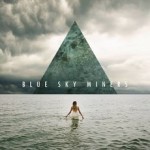 Blue Sky Miners
Blue Sky Miners
(Independent)
3.5/5
This debut EP from Canadian folk band Blue Sky Miners has an entrancing and mystical sound; the song "Cold Water," which starts off the EP, is the perfect track to draw listeners in.
The band refers to their sound as "Rocky Mountain desert rock," but "folk rock," something we're all familiar with, works just as well.
For a band just two years into their career, they have an impressively established sound and quality to their music.
This EP features a variety of sounds and instruments played by their five members, including lead female vocalist Jena Gogo, who has a smoky voice that's perfectly accompanied by her male counterparts.
This EP is a perfect introduction to this band.
Facebook comments; non-Facebook comments below