Lit Matters: The unromantic romances of Gabrielle Roy
December 2, 2015 by Keagan Hawthorne, contributing writer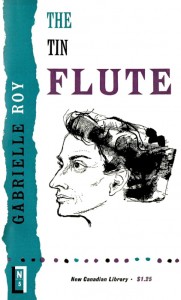 Canada's previous $20 bill had a quotation on it: "Could we ever know each other in the slightest without the arts?" The quotation is from Quebec novelist Gabrielle Roy's The Hidden Mountain, a tender yet unrelenting look at both Canada's northern wilderness and the interior wilderness of a life spent pursuing art.
Roy grew up on the prairies but spent the majority of her working life in Quebec. She became a literary sensation when her first novel The Tin Flute (French title: Bonheur d'occasion) was published in 1945. Although not as well known outside of Quebec, Roy is one of the most important Quebec authors of the 20th century; she's won both the Governor General's award and the prestigious Prix Femina.
Like Alice Munro's Ontario and Alistair MacLeod's Maritimes, Roy's portraits of Quebec do more than simply paint a landscape or describe a culture. Instead, they recreate the world of her characters in vivid, compassionate detail.
The Tin Flute, set in the working-class Montreal neighbourhood of Saint-Henri, depicts life as a struggle to rise above the ignorance and poverty that trap its residents in cycles of abuse, loneliness, and sorrow. It is also the story of the search for love and a look at the forces that both hinder and help us along the way.
Roy's voice was new to Quebec literature because she wrote about Montreal suburbs and rural villages with a tenderness that didn't romanticize or sentimentalize. She spent her whole life in the pursuit of an authentic way of seeing.
"The life of a writer is tragic," she once wrote. "The more we advance, the farther there is to go and the more there is to say, the less time there is to say it."
Gabrielle Roy must-read:
The Tin Flute
(Public Library Central Branch: Paperback Fiction)
Facebook comments; non-Facebook comments below