New Music Revue: The Sylvia Platters power-pop teases with ambition
December 2, 2015 by Jake Wyatt, contributing writer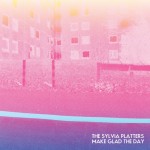 The Sylvia Platters
Make Glad the Day
(Independent)
3/5
Langley-based power-pop band The Sylvia Platters' debut album Make Glad the Day is an admirable first effort for a band doing all their own legwork: the self-produced LP was recorded by the band members in a cabin near Mount Baker.
The guitars are the driving force behind the band's music: The Sylvia Platters have a talent for conjuring up catchy riffs. However, stronger guitar tones would help make these captivating melodies more memorable.
The production is an issue hereŃwhile a valiant effort to self-produce a debut album, Make Glad the Day's drawbacks stem from the homespun recording efforts. The low fidelity and garage-rock direction aren't the best company for an album brimming with pop sensibility.
Potential seems to be the story of Make Glad the Day. This album teases the listener with ambitions that, while catchy, aren't fully realized. While they didn't quite hit the mark on this debut, what we're left with inspires confidence in future releases.
Facebook comments; non-Facebook comments below