Soul of Wilderness strikes with nature photographs
December 2, 2015 by Tasha Olekshy, contributing writer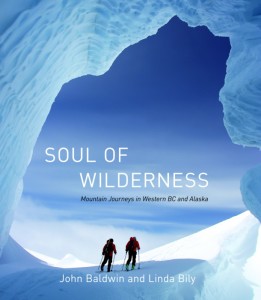 Soul of Wilderness by John Baldwin and Linda Bily is a delightful book about a couple's wilderness journeys in western BC and Alaska. Baldwin and Bily spent years exploring the untamed wilderness of the Coast Mountains together and they couldn't resist sharing their adventures with people any longer.
The book is a thorough compilation of photographs and words detailing the couple's backcountry skiing and hiking exploits. Stunning photographs accompany charmingly written blurbs on whichever glacier or mountain the authors decided to ski across that month.
At first glance, Soul of Wilderness seems like an innocuous coffee-table book that would make a great, inoffensive Christmas gift for that hard-to-buy-for aunt or uncle. However, Baldwin and Bily surprise the unprepared reader (yours truly) with alarmingly beautiful photographs of tarns, Nunataks, and aretes (for those of you not up on your glacial feature terminology I highly recommend Chris Ayles' Applied Geomorphology course).
The authors succeed so tremendously in conveying their curiosity and passion for "untamed wilderness" that reading Soul of Wilderness made me want to drop everything, strap on a pair of skis, and get helicoptered into some remote alpine location to do some soul-searching on a mountaintop.
What really struck me about this book, above all else, were the photographs. Through them, Baldwin and Bily connect us with the intense beauty of North America's westernmost mountains. It's an amazing feeling, opening a book and seeing a picture of a stunning landscape completely devoid of human influence. The vast majority of us do not experience such pristine wilderness on a regular basis; reading this book is a way to do just that.
So yes, I would recommend Soul of Wilderness. Highly. And after reading it, if you're as compelled as I am to quit school and spend the winter skiing across mountain ridges then give me a call. I'm looking for adventure partners. Just don't tell your parents it was my idea.
Facebook comments; non-Facebook comments below