Lit Matters: Marian Engel bears it all
February 17, 2016 by Keagan Hawthorne, contributing writer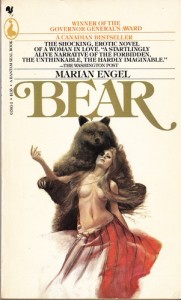 "Remember that it is not enough to have everything around you beautiful, remember that there must also be change and flux, because it is through change that we pretend that we can make decisions, and keep our pride," wrote Marian Engel, a Canadian novelist who was very much interested in stories of personal change.
Engel is most famous for Bear, which won the Governor General's Award in 1977 and has been called the most controversial novel ever written by a Canadian author.
The story follows Lou, a shy librarian who is escaping her dead-end city life on an island in Ontario's cottage country. She is alone with a mangy old pet black bear left behind by the island's previous owner, and she ends up falling in love with the bear. And having sex with him. Okay, so they don't have intercourse, but she gets the bear to use his tongue ("muscular but also capable of lengthening itself like an eel") to good effect. Repeatedly. Hence the novel's controversy, and hence its popularity.
There is, of course, so much more to Bear than simply sensational CanLit bestiality erotica. This is serious literature by a serious and respected novelist.
You can read pretty much any way you like: it's an insightful comment on our national fetishization of the wilderness and the often voyeuristic relationship we tend to have with it. Or, it's a high text of second-wave feminism in which a subdued female character finds strength, conquers nature, and takes ownership of her sexuality and herself.
But most of all, it's a tender, graceful, and comforting love story, one that is beautifully written in finely tuned prose.
If you're not afraid of strangeness, it's a marvellous book to spend a weekend with.
Engel, who died in 1985, wanted to inject some change into Canadian literature, and she certainly did that. And despite the fact that she is known today as the author of Canada's only mainstream bestiality, the continued popularity and serious appreciation of her work would surely have made her proud.
Marian Engel must-read:
Bear
(Public Library Central Branch: Adult Paperback Fiction)
Facebook comments; non-Facebook comments below