Lit Matters: The storied truths of Tom King
March 16, 2016 by Keagan Hawthorne, contributing writer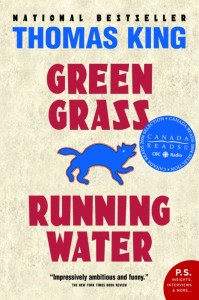 "The truth about stories is, that's all we are," wrote Thomas King, a Canadian novelist, essayist, and native-rights activist who uses humour as often as he uses polemic to bring awareness to the sociopolitical and historical context of native peoples in North America.
King grew up in California, the son of a Cherokee father and Greek mother. After moving to Canada in 1980, he gained national attention for The Dead Dog Café Comedy Hour, a 15-minute radio drama that King wrote and acted in. Not one to shy away from dark humour, as well as slapstick, King (and his co-hosts Gracie Heavy Hand and Jasper Friendly Bear) poked fun at indigenous stereotypes. The show included bingo, an "authentic Indian name generator," and conversational Cree lessons with phrases like "Please ask the chauffeur to bring the car around." And each episode concluded with the sign-off "stay calm, be brave, wait for the signs!"
Besides receiving two Governor General's Award nominations, King presented the 2003 Massey Lectures, which he called The Truth About Stories: A Native Narrative. Using his characteristic wit and humour, King contrasted the storytelling traditions of Europeans with Native American oral tradition to show that the stereotype of oral traditions being simplistic doesn't hold up, even within a European academic viewpoint.
King argues that stories, whether oral or written, have the power to change our lives, and that once we've heard them, stories often require us to respond in return. The Truth About Stories ends with this gentle warning: "Don't say in the years to come that you would have lived your life differently if only you had heard this story. You've heard it now."
Thomas King must-read:
Green Grass, Running Water
(Lansdowne Library: PS 8571 I54 G74)
Facebook comments; non-Facebook comments below