Lit Matters: The Moomintrolls of Tove Jansson
March 30, 2016 by Keagan Hawthorne, contributing writer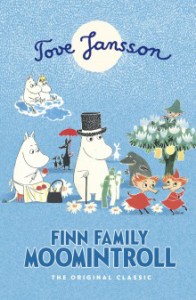 "I only want to live in peace, plant potatoes, and dream!" said the ever-whimsical Moomintroll, hero of Finnish author Tove Jansson's beloved series of children's books.
Jansson, who was well known as a painter and an illustrator as well as an author, won the prestigious Hans Christian Andersen Award for her imaginative and wistful stories. The Moomin series, full of memorable characters that have sometimes touching and sometimes bizarre adventures, were Scandinavia's answer to Walt Disney and Winnie The Pooh. The series of eight novels were expanded into cartoon strips, an animated television series, films, plays, and even an entire theme park in Finland.
Jansson has received high praise for her work—Phillip Pullman called her "a genius of a very subtle kind" and Neil Gaiman referred to her work as "a surrealist masterpiece"—and it is well deserved. Rarely does an author possess such an ability to speak simultaneously to so many facets of our experience as human beings. The Moomin books can be read with delight by anybody of any age, and the often-laconic aphorisms spouted by their characters have something to offer any reader.
It would be hard to sum up the entire cast of this imaginative world because there are so many enduring characters. There is the fun-loving and naïve hero Moomin and his best friend Snufkin, who goes where he pleases and never owns more than he can carry on his back. There is firey Little My, whose acerbic wit is a nice antidote to whimsy. And there is Too-Ticky, inspired by Jansson's real-life partner, who takes a contemplative and Zen-like approach to troubles, often declaring that "nothing is certain."
This may be true, but the one certain thing you can bet on is enjoying the Moomintroll books.
Tove Jansson must-read:
Finn Family Moomintroll
(Public Library Central Branch, junior paperback)
Facebook comments; non-Facebook comments below