New Music Revue: La Chinga freewheels to rock excellence
August 10, 2016 by He Wei, contributing writer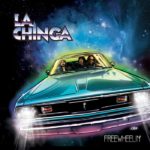 La Chinga
Freewheelin'
(Small Stone Recordings)
4/5
La Chinga is a hard-rock trio from Vancouver, and their music has psychedelic power. Fans of classic rock bands will agree that their new album, Freewheelin', is a success, for a couple of reasons.
Firstly, its theme and songs are cohesive, making for a great listening experience. When I spin the album, I feel like I'm driving a car down on a prairie highway. All of the songs on the album are played with an undeniable passion.
Secondly, the music has a very strong rhythm, and one that fits in nicely with the album's theme: listening to it, I associate it with the sound of an engine. The songs create images of roarin' old cars running down a wide road.
However, I cannot give it a full five out of five. When I listen to the album for a long time, my spirit feels nervous, and my brain feels very tired. But this isn't specific to La Chinga; it's a common problem with hard rock. I hope that La Chinga can find a suitable balance between passion and softness.
Facebook comments; non-Facebook comments below