Lit Matters: Going gonzo with Hunter S. Thompson
October 5, 2016 by Keagan Hawthorne, contributing writer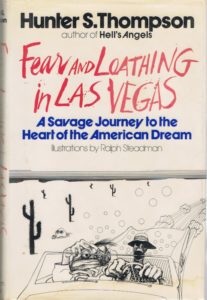 "I hate to advocate drugs, alcohol, violence, or insanity to anyone, but they've always worked for me," Hunter S. Thompson, the father of gonzo journalism, once said.
Thompson first gained notoriety as the writer of Hell's Angels: The Strange and Terrible Saga of the Outlaw Motorcycle Gangs, a book he researched by spending a year riding and hanging out with the Hell's Angels; he was severely beaten when the Angels realized he was using them for his own personal gain.
In 1971, Thompson published Fear and Loathing in Las Vegas, and the "gonzo" writing movement was born. The book is a semi-fictionalized account of a reporter travelling to Las Vegas to cover a district attorney convention and a desert motorcycle race. The narrator spends most of his time on drugs, grappling with chaotic disappointment at the state of his generation.
What made the book unique was the way Thompson placed himself as a character in the centre of the action. The "new journalism" movement had already produced a style of reporting that rejected the idea of an objective reporter. Truman Capote, Joan Diddion, and Thomas Wolfe all wrote books and magazine stories in which they observed themselves observing the action.
Thompson's innovation was to actively involve himself in the action he was reporting. "Buy the ticket, take the ride," he wrote, and, he proceeded to do just that.
By the early 1970s, the failure of the hippies' counter-culture revolution was a common theme among the new journalists. Thompson's drug-addled, frenetic style reflected the chaos and disappointment of this latest failure of the American dream. It also represented a type of desperate hope that out of the ashes of the hippies something new would emerge. After all, he reasoned, "When the going gets weird, the weird turn pro."
Hunter S. Thompson must-read:
Fear and Loathing in Las Vegas
(Public Library Oak Bay Branch: 920.573 THO)
Facebook comments; non-Facebook comments below