New Music Revue: Lead Mule put fresh take on familiar sounds
October 5, 2016 by Kennidy Anderson, contributing writer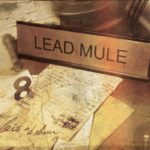 Lead Mule
Parts & Labour
(Independent)
4/5
Yarmouth, Nova Scotia's Lead Mule has put a modern twist on early '90s rock with Parts & Labour, their second LP. The album combines intricate three-part harmonies, snappy riffs, and choruses that the listener can't help but sing along with.
Vocalist/guitarist Mat Bridgeo brings something to the table with his singing that can best be described as the metaphorical lovechild of Bush's Gavin Rossdale and Panic! at the Disco's Brendon Urie; it may seem like an incompatible pairing, but Parts & Labour's title track and "Semi Automatic" brilliantly showcase this hybrid of styles.
Throughout the LP, Bridgeo's vocals float effortlessly across meticulously crafted and melody-laden tracks, each one offering up something different than the last. This album starts out strong and ends off on a softer note, leaving the listener with a strong sense of contentment and satisfaction.
Facebook comments; non-Facebook comments below