New Music Revue: Tokyo Police Club return with more Melon Collie
October 5, 2016 by Mason Hendrix, contributing writer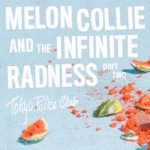 Tokyo Police Club
Melon Collie and the Infinite Radness (Part 2)
(Dine Alone Records)
4/5
Ontario indie rockers Tokyo Police Club are back with the second part of their two-EP series, Melon Collie and the Infinite Radness.
The five-song EP dives straight into their trademark garage-rock sound from the very first track, which is an enthralling way to set the tone for the EP. The record doesn't sound too polished or pop-like, which is a positive thing in indie rock.
The EP is infused with youthful vocals and upbeat instrumentals; the downfall of the somewhat repetitive sound is that it might leave you feeling somewhat melancholy if you're not a fan of indie rock. But, for my money, this is excellent indie with a rad summer vibe and is definitely worth checking out.
This lyrically thought-provoking EP is a solid four out of five, its only flaw being a lack of variety, with the record sounding like one long improv jam session on a familiar—but awesome—musical theme.
Facebook comments; non-Facebook comments below