25 Years Ago in Nexus: October 19, 2016 issue
October 19, 2016 by Greg Pratt, managing editor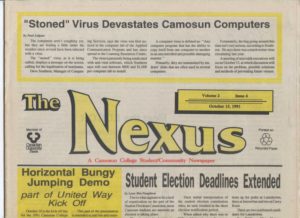 Harshing the college's mellow: According to a story in our October 15, 1991 issue, Camosun was dealing with the "stoned virus" on its computers at the time. The virus, which displayed a message on computer screens calling for legalization of marijuana, was spreading throughout the computer labs at the college. Unfortunately, this was before the era of free, effective anti-virus software; the college was ponying up between $800 and $1,000 per computer lab to remove the virus.
Wait… what?: We wrote a story in this issue talking about a United Way event coming to the Lansdowne campus; the highlight of the festivities—and it's even mentioned in the headline—is a "horizontal bungy jumping demo." We can't even imagine what that would look like. Talk about a fad that never took off.
The landfills were getting too empty anyway: A previous 25 Years Ago in Nexus column talked about an old story detailing thousands of dollars' worth of reusable cups going missing from the Camosun cafeteria. This issue had a story on the end result of that: the cafeteria started using disposable dishes and cutlery. All these years—and steps ahead in environmental awareness—later, anyone else thinking the caf should go back to reusable dishes right about now?
Facebook comments; non-Facebook comments below