Lit Matters: The magic reality of Gabriel García Márquez
October 19, 2016 by Keagan Hawthorne, contributing writer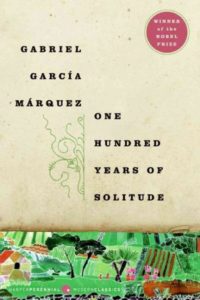 "A novelist can do anything he wants so long as he makes people believe in it," said Gabriel García Márquez, a Latin American novelist and journalist best known for his sweeping novel One Hundred Years of Solitude.
Márquez grew up in Colombia and began his literary career as a journalist. But when the government was replaced by a military dictatorship in 1953, a story about army negligence earned him an unofficial exile from the country. He spent many years scraping together a living as a foreign correspondent before sitting down one day to write the opening sentence of his first novel: "Many years later, as he faced the firing squad, Colonel Aureliano Buendía was to remember that distant afternoon when his father took him to discover ice."
It took Márquez 18 months of full-time writing to complete One Hundred Years, and during that time his wife had to pawn household items and beg for food. Fortunately, the novel was wildly successful, securing his place as a titan of world literature and winning him the Nobel Prize.
Márquez is famous for writing "magic realism," in which the ordinary world is invaded by extraordinary occurrences presented matter-of-factly to the reader. In his short story "A Very Old Man with Enormous Wings," an old couple catches a bedraggled angel in their backyard and keeps him in the chicken coop for passers-by to ogle.
What makes his work so moving is that despite all the fantastic happenings—plagues of insomnia, levitating priests, ghost ships in the middle of the jungle—his world is a familiar world in which we can recognize ourselves. The greed of the old couple and the meanness of the neighbours poking at the angel is our greed and our meanness. And the beauty and the love that carry his characters through One Hundred Years of Solitude are our beauty and our love, too.
Gabriel García Márquez must-read:
One Hundred Years of Solitude
(Interurban Library code: PQ 8180.17 A73 C513)
Facebook comments; non-Facebook comments below