New Music Revue: Scenic Route to Alaska deliver comforting sounds on Long Walk Home
October 19, 2016 by Shireen Roy, contributing writer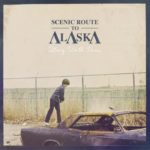 Scenic Route to Alaska
Long Walk Home
(Butler Records)
3/5
Edmonton indie-folk-pop band Scenic Route to Alaska has come out with a sweet and nostalgic sound on their fourth LP, Long Walk Home.
Lead singer Trevor Mann's voice has a unique sound to it that makes each word he sings cut through all the instruments and sound a bit wistful.
The album has a recurring theme of love and longing, and they do a good job of switching between fun and upbeat songs and slower sentimental ones.
Although the band didn't do anything groundbreaking while creating Long Walk Home, it feels like a warm, familiar place on a cold day.
Scenic Route to Alaska's sound is reminiscent of that local band that you grew up seeing at all the holidays and festivities.
Facebook comments; non-Facebook comments below