Lit Matters: The mythologies of Leonard Cohen
November 2, 2016 by Keagan Hawthorne, contributing writer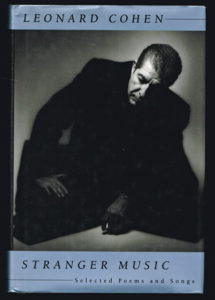 There has been a lot of ink spilt over the songwriting-versus-literature debate since Bob Dylan was announced as the winner of the Nobel Prize in Literature this year. Some critics, even while they accept that lyrics can be literature, question the specific choice of Dylan. In a year with zero women laureates, why not Joni Mitchell? At least she might have answered her phone. (At the time of writing, Dylan has refused to acknowledge the award and was called "impolite and arrogant" by a member of the Swedish Academy, which administers the prize.)
Or, for that matter, what about Leonard Cohen?
"Poetry is just the evidence of life," wrote Cohen. "If your life is burning well, poetry is just the ash."
Cohen, who is internationally famous as a singer and songwriter, began his artistic career as a poet. He grew up in Montreal and attended McGill University, where he rubbed shoulders with some of Canada's greatest poets, including Irving Layton and Louis Dudek.
Cohen published his first book of poetry, Let Us Compare Mythologies, at age 22. Since then, he has gone on to publish 13 books of poetry and two novels, winning the Governor General's Award in 1968. It was not until after he gained recognition as a poet and novelist that Cohen began to perform as a musician.
Many of his books contain mixtures of poetry that he has recorded as songs and poetry meant only for the page. Cohen is not easy to categorize—he is a Sabbath-observing Jew who is also an ordained Buddhist priest. He is a folk singer who records with synthesizers. He is a recluse and a man of the world. He considers himself a soldier but refuses to take sides in the battle for peace.
But one thing Cohen most definitely is, transcending all of these categories, is a poet.
Leonard Cohen must-read:
Stranger Music: selected poems and songs
(Greater Victoria Public Library Emily Carr branch: 811.54 COH)
Facebook comments; non-Facebook comments below