Brewing Revolution goes down easy
November 16, 2016 by Patrick Newman, contributing writer
I don't normally read memoirs or biographies; I find they tend to be insipid and vain. However, when my editor asked me if I like beer—I do—and asked me to review Frank Appleton's Brewing Revolution (Harbour Publishing), I made an exception. I'm glad I did.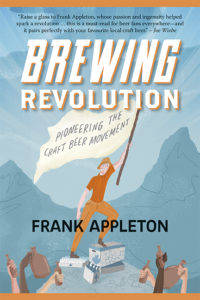 Starting out as a microbiologist in England, Appleton came to BC in the '60s and, thankfully, never left. The book recounts his adventures in brewing, from his beginnings with the big corporate brewers to helping open Canada's first craft brewery—Horseshoe Bay Brewing—in 1982. Appleton also details the ins and outs of brewing and the history and science behind beer in Brewing Revolution, and he knows what he's talking about; if you've ever had one of the craft beers from Spinnakers, Swans, or Hoyne Brewing, then you've sampled a little bit of Frank Appleton.
Within the 210 pages of this book, readers will find themselves caught up in Appleton's easy and experienced prose. At times, you can imagine you're sharing a pint with the author and he's telling you his stories in person.
Appleton's ability to tell a story comes from years spent writing for BC newspapers and magazines while building a home in the Kootenays (one of those articles led to his involvement in the North American craft beer movement).
Readers may find it a bit hard to get past the Latin names of the many yeast and bacteria listed in the book, but that's about as challenging as it gets here. Even if Appleton's memoirs of a life in brewing may at first seem to be self-aggrandizement, there's no disputing the fact that he played a significant role in fermenting the brewing revolution in North America. I highly recommend adding this to your list if you're interested in brewing or if you want to check out a short read about BC history
Facebook comments; non-Facebook comments below