To See or Not to See: Whiplash proves that dreams are worthwhile
February 1, 2017 by Finlay Pogue, contributing writer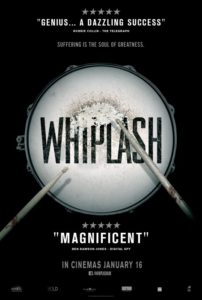 Whiplash
4.5/5
Whiplash (2014) is one of the finest pieces of independent filmmaking—and therefore filmmaking as a whole—in recent history. It's alive, but it's not desperate to be; it's funny, but only because life is funny sometimes; it features young characters that aren't limp or over-inflated with self-awareness.
Most of all, though, Whiplash captures what it's like to be young and to have passion, and what it's like to sacrifice yourself to something you deem greater than ordinary life. And yet, the film is unusually in touch with ordinary life, despite the fact that its hero, Andrew Neiman (Miles Teller, much more comfortable here as an aspiring Buddy Rich than as an aspiring arms dealer [War Dogs, 2016], or… whatever he was doing in the Divergent series), is so determined to leave it behind.
There are numerous quiet, intimate moments that not only act as a counter-weight to the frantic, adrenaline-fuelled drumming scenes, but also give Whiplash the emotional credibility to endure the harsh and wearing nature of life on those with dreams.
That harsh nature comes primarily in the form of the one and only J.K. Simmons, formidable here in the role of abusive-but-maybe-not band conductor Terence Fletcher, who lives with the conviction that "there are no two words in the English language more harmful than 'good job.'"
But what sets Whiplash apart is its unfaltering vision, parallel with Neiman's own, of doing something great. This is a film that would be just as unsatisfied with a mock ending as Neiman would be with being merely a good drummer—and it's this duality that makes the film so believable and so truthful.
What's more is that it's Whiplash's truthfulness that makes the film so interesting: is it okay to throw a chair at a student's head in order to push them to greatness? Is it possible to be a 'great'? Would it be worth it if you could be?
Chazelle never gives us straightforward answers to questions like these, and the film is better for it; we as the audience can, and must, decide.
It's this freedom that gives Whiplash its intelligence; it knows better than to make a singular statement on a subject with so many sides. Instead, it gives us the pieces and lets the audience build a conclusion specific to them, with morals that they believe in.
Chazelle's latest project, La La Land (2016), is also about people with dreams, but its characters seem satisfied to revel in them rather than act on them. Whiplash's Neiman never pauses to revel in his lofty dreams because his dreams are too uncomfortable, a constant itch that is only soothed by success.
It's rare for a film to address a character's desire for greatness and not conclude that the character was great all along or that there is a suitable substitute—love, family, money—for greatness.
Films cop out with one of these two endings because they don't have any more spine than their characters. It's hard to look "greatness" in the eye; it's hard to think that maybe, sometimes, you're just not good enough; it's hard, in a world of 7,000,000,000, to be an individual yourself.
Whiplash stands as a testament to greatness, proving that although it's hard, settling for less is even harder.
Facebook comments; non-Facebook comments below