25 Years Ago in Nexus
March 15, 2017 by Greg Pratt, managing editor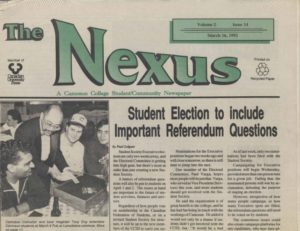 A conspiracy theory worth considering: We asked students what they thought about student loans in Speak Up in our March 16, 1992 issue. Responses were as you may expect, although one stands out: Camosun student Jason Crockett told us, "I think it is an evil plot by the government to reduce the population of the planet of Canada. I think the strong will survive and death to ones who can't." The planet of Canada?
To federate or not to federate?: This issue featured the story "Student election to include important referendum questions," which talked about referendum questions that were to be asked at an upcoming Camosun College Student Society (CCSS) election. One of the questions regarded joining the Canadian Federation of Students (CFS); Camosun students did end up voting to join the organization. How's the relationship between the CCSS and the CFS working out these days? Search "CFS" on our website to read some stories about it…
Wonder if this is still available?: I love looking at old classifieds, for reasons like this: "Commodore Amiga 500, 3.5" disk drive, 1 meg ram, 1084s stereo VGA monitor, excellent word processing program, plus other software. $750." Anyone else out there get a little shiver of excitement when seeing the word "Amiga"? Dragon's Lair? Space Ace? Shadow of the Beast? Hello?
Facebook comments; non-Facebook comments below