Blue Bridge's The Caretaker faithful, captivating, wonderful
May 1, 2017 by Aaron Stefik, contributing writer
As anyone who is familiar with the plays of Harold Pinter—who won the 2005 Nobel Prize for Literature—will attest, his works are notoriously unconventional, requiring a deft and figuratively minded hand for everything from set dressing to movement direction to be executed effectively.
I'm happy to report that Jacob Richmond's production of The Caretaker has passed all of these criteria with flying colours.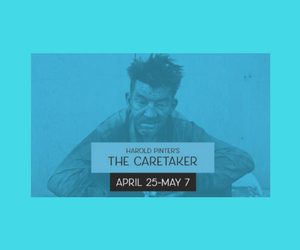 The shipping-pallet and found-prop set design of Patrick Du Wors is brilliantly oriented and expertly lit despite its minimalism, immediately pulling the viewer into an expansive world of levels and shadows, all within a single room. Although Pinter's characters execute their arcs through speech rather than action, the actors in this production choreograph their movements and shift their expressions with intoxicating subtlety. In particular, RJ Peters does a wonderful job of conveying the internal torture of his character Aston, while Paul Fauteux never fails to command the stage as the charmingly long-winded Davies.
The Caretaker—Pinter's most performed play—is a story of the raw isolation that stems from failed communication; everyone involved demonstrates the kind of understanding of the material that usually escapes smaller production teams. By the end of the second act, I forgot about the outside world, drawn instead to every detail of the intricate interpersonal politics taking place between three downtrodden Londoners in a ramshackle flat.
Rounding out the bill, Iris Bannerman's excellent dialectal coaching work makes all three actors surprisingly believable post-war Englishmen.
Though anyone unfamiliar with the notorious "Pinter pause" may be initially put off by the play's style, the Blue Bridge rendition is both faithful and humble in its profundity.
The Caretaker
Various times, until Sunday, May 7
Various prices, Blue Bridge at the Roxy
bluebridgetheatre.ca
Facebook comments; non-Facebook comments below