Grant Lawrence explores highs and lows of '90s indie touring in new book
May 17, 2017 by Greg Pratt, managing editor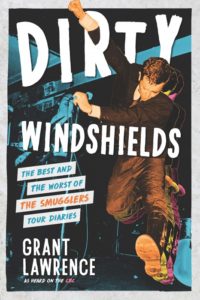 Most Canadians know Grant Lawrence as a CBC radio personality or as an author, but, once upon a time, Lawrence spent his nights on stages of various repute—including those here in Victoria—as the singer for garage rockers The Smugglers. His new book, Dirty Windshields: The Best and the Worst of The Smugglers Tour Diaries, is a wonderfully honest and incredibly sincere look at what life was like for a modestly successful indie band in the '90s.
Lawrence doesn't try to hide the lows with the highs; even though The Smugglers ended up on very reputable underground labels and were known worldwide, he still confesses near the book's end that the band always felt like they were just on the cusp of what was happening and never the stars of the show.
One of the book's most stunning moments comes near the end, when The Hives, who were friends of The Smugglers, hit it big. Lawrence recalls hearing the news after his band had just played a disastrous show and were experiencing a decline in popularity. He talks about how this was part of the beginning of the end for The Smugglers, and it's one of the most touching and truthful moments I've ever read in a rock bio.
So is the moment when the band is on tour and the members call their moms to wish them a happy Mother's Day. When they return to the van, they see one member hadn't gone to use the pay phone; when pushed for a reason, he says that his mom is dead. Lawrence is left with the realization that the band members are out on the road rocking and rolling together but not really even getting to know each other.
Of course, there are highs as well—plenty of booze-fuelled good times and sexy decadence—but Lawrence's most moving moments as a writer come through loud and clear when he's recounting the darker moments of trying to survive as an indie band in the '90s, the circumstances of which quite literally pushed Lawrence to the brink of sanity. At one point in the book, Lawrence recounts the time he jumped out into a busy highway in a panic during one particularly taxing drive with the band.
But Lawrence's story ends on a positive and touching note. As I pretended that a tear wasn't welling up in my eye while I made it through the last page and put the book down, I realized Dirty Windshields is easily one of the best rock memoirs I've ever read.
Grant Lawrence
(Victoria book launch for
Dirty Windows; live performance by Bum)
7 pm Saturday, May 27
Free, Bolen Books
bolen.bc.ca
Facebook comments; non-Facebook comments below