Photo guide explains marine life
May 17, 2017 by Patrick Newman, contributing writer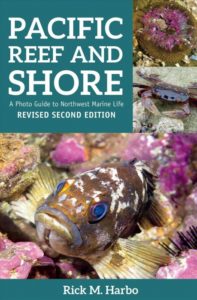 Looking for something to do now that spring is here? Thrifty and adventurous students may want to pick up Rick M. Harbo's nifty little photo guide Pacific Reef and Shore: A Photo Guide to Northwest Marine Life and hit the beaches and tidal areas surrounding our island.
This is a wonderfully easy-to-use guide to marine life from Alaska to California. Organized into groups and subgroups for quick reference, the book offers concise and important info on where to find and how to identify marine mammals (dolphins, whales, seals, otters), bivalves and lampshells (clams, oysters, cockles), crabs and snails and octopus (oh my!), and more.
You won't need a biology degree to identify the numerous species dwelling in tidal pools or swimming around the pylons of the local pier; this revised second edition is updated to include changes made to the scientific names of some species, but the common names are used for easy reference, with both names searchable in the book's index. Some of the critters listed will be found only at depths visited by scuba divers and pirate ghosts, but I think it's important that they're included to understand the rich biodiversity in the oceans of the Pacific Northwest.
I grew up here and spent a lot of my childhood on the beaches of southern Vancouver Island, but I wouldn't have been able to tell the Hairy Oregon Triton from the Northern Striped Dogwinkle, or known that three species of dolphins can be found swimming up and down the coast, before reading this book. The only thing absent from this guide is marine birds. It would have been nice to include them, if only so the casual explorer or tourist can differentiate the common seagull from the beautiful cormorant, or the bald eagle from the osprey.
I recommend this book; it will increase your knowledge of local marine life and may instill a greater appreciation for the beautiful and fragile environment we're fortunate enough to live in.
Facebook comments; non-Facebook comments below