Speakeasy mixed bag of emotions
May 17, 2017 by Adam Marsh, student editor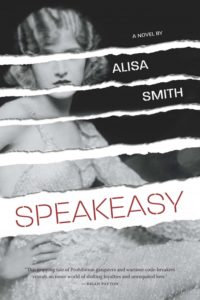 Vancouver-based author and journalist Alisa Smith's debut novel, Speakeasy, deals with the Great Depression and World War II in a fresh and intriguing way.
From the cold-hearted code-breaker arrested because of the events of her past to the real-life cocaine-fuelled gangster Bill Bagley—a walking paradox who donates a portion of his stolen funds to charity—all of Smith's characters have some unique elements to them, and they grow an admirable, enticing amount throughout this book. They were a pleasure to get to know, and the plot kept me eagerly turning each page of this gangster novel.
However, one of the narrators—Byron—is far too much of a passive pushover to be liked in the beginning of this book. He says little and does even less. As the book progresses, this changes, but he felt like a waste of page space at the beginning. There are far more interesting characters around him whose heads I would have rather had a glimpse into.
The local, old-fashioned, west-coast touch paints a good picture, and Smith writes moment-to-moment, appealing to the senses and, in the latter half of the book, the heart.
Looping back to World War II at the Esquimalt base is a nice touch to change things up, because if I were stuck in Byron's head throughout the whole book, I probably would have thrown Speakeasy across the room. The other narrator, Lena Stillman, is a fascinating, broken, empathetic person for whom my heart jumped onto the page.
Speakeasy is recommended for lovers of '30s gangster stories and esoteric war novels, although one big critique is that the tone of the book changes arbitrarily; for example, characters suddenly start dropping f-bombs partway through the book.
This book is a mixed bag, with its pros just slightly outweighing its cons, but there are as many pleasures as there are subtle annoyances in Speakeasy. It may be a mixed bag, but it's one I would recommend, with only a few red cocaine- and booze-covered flags hiding in the pages.
Facebook comments; non-Facebook comments below