Stars on Ice dazzling and dreamy
May 17, 2017 by Felicia Santarossa, contributing writer
Stars on Ice is a mixture of dance, theatrics, and—of course—ice skating, blending in a gloriously campy experience sure to bring a smile to any audience members' face. The show—which came to Victoria's Save-on-Foods Memorial Centre on Tuesday, May 16—provides a balance between the dark and light, although the glitzy ensemble opening to Bruno Mars' "24K Magic" displayed that this cast was here to party; it also displayed their passion and poise.
The show had Shawn Sawyer filling in for Gabrielle Daleman; his enthusiasm and penchant for backflipping wowed the crowd while adding a little something extra to his skating manoeuvres.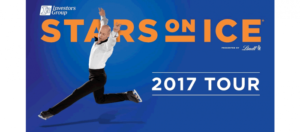 Fan favourite Elvis Stojko's performance to Woodkid's "Run Boy Run," with its thumping drums and pressing violins, had Stojko climax with a scratch spin to end all spins, which earned a standing ovation at the end of the performance. Additionally, the ensemble brought a touching tribute to late designer Jeff Billings, tastefully displayed through Barbra Streisand's "Send in the Clowns."
The entire production was methodically planned out, with the choreography and costumes matching the instrumentals and lyrics of each song. The theme of the night was "dreams," achieving one's goals and finding strength in them, with the stage lights providing a dream-like background, rich with colours and displays, depending on the song. The more funky tunes meant more funky moves, featuring more character-based performances. That being said, Kaetlyn Osmond's angelic piece, set to Tori Kelly's cover of "Hallelujah," was breathtaking, as she displayed effortless grace, mirroring Kelly's vocals. The real showman of the night, however, was Kurt Browning, who provided a genuine charisma with each of his performances.
The couples' performances brought delights while being a little nail-biting when watching either Lubov Iliushechkina or Meagan Duhamel being swung by their ankles. The determination and restraint in Duhamel and Eric Radford's routine, which was paired brilliantly to Peter Gabriel's subdued cover of "Heroes," reminding me that skating, like any performance, requires every part to have weight and purpose.
Throughout the event there was the occasional misstep or botched landing, but those came few and far between, proving the point that the decorated cast of Stars on Ice can undoubtedly put on a show.
Facebook comments; non-Facebook comments below