Book looks at vanishing northern community
June 14, 2017 by Nadine McCully, contributing writer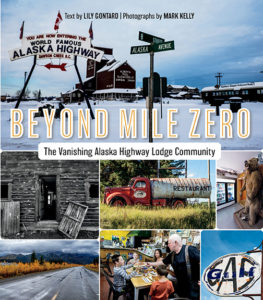 Feel like taking a road trip this summer? Beyond Mile Zero by writer Lily Gontard and photographer Mark Kelly is the book to inspire you. Gontard teamed up with Kelly to capture the lodge community along the Alaska Highway and share the stories of the people who have a history within the community.
Before each story, there is a short excerpt about the area where the lodges are, along with a few interesting historical facts, which lets the readers learn a little bit about the region in question.
The photos are nicely done and capture history as they show rustic buildings, cars, and a few photographs from the 1960s. The focus on a few photos could be better, but for the most part they are nice visuals that add charisma to the book.
The owners of the lodges talk about their lives and about the difficulties of operating a lodge out of town, comparing the past to the present. To many of them, working at the lodge is their whole life; to others, it's just a memory.
History is a large part of the businesses along the highway, and the stories liven the history and give it depth. Those stories are mostly light-hearted with a touch of humour, creating a sense of authenticity that brings life to the book; there is even a traditional cinnamon bun recipe from 1977 shared by one of the lodge owners.
Beyond Mile Zero gives a good combination of information about the highway and heartfelt stories; the readers aren't lost, and they're not reading too much information that bores them.
This book is nicely organized with stories and photos, which makes it an easy read. The stories are well written and are balanced throughout the book; there are heartwarming tales among the sad ones. Between those, the photos, and the historical content, this book will inspire readers to want to experience the culture and history of the Alaska Highway before it diminishes even further.
Facebook comments; non-Facebook comments below