New Music Revue: John Gary Williams shows smooth style on reissue
June 14, 2017 by Greg Pratt, managing editor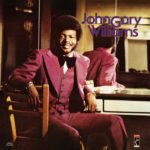 John Gary Williams
John Gary Williams
(Stax Records)
3/5
In 1973, John Gary Williams released his debut solo album after returning from the Vietnam War and spending some time away from his band, The Mad Lads. That album—now reissued on vinyl for the first time since its initial release—shows both his smooth, soulful style and a political leaning that makes sense, given the times.
Opener "I See Hope" rocks the funk to the disco, and "I'm So Glad Fools Can Fall in Love" is smooth-as-silk '73 soul. Williams sings both styles with ease, as he does when he takes things down a notch further for smooth ballad "Honey."
The stylish sax work on "Ask the Lonely" impresses and sets a mood, but it's the aforementioned "I See Hope" and closer "The Whole Damn World Is Going Crazy" where Williams gets away from romance and moves toward a more political lyrical approach, where the most impact is made. These are the strongest cuts on the album, and they leave me wishing Williams had spent more time on the album tackling this sort of lyrical content.
Facebook comments; non-Facebook comments below